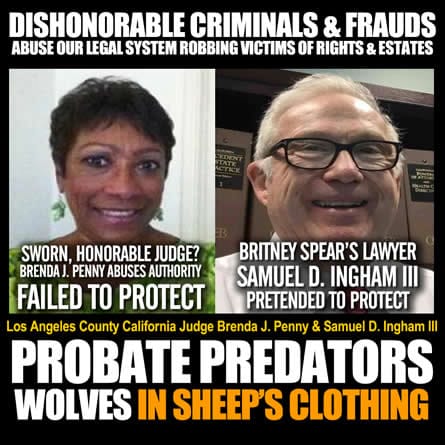 THESE ARE THE HEINOUS CRIMES DONE BEFORE TOTALLY DISHONORABLE JUDGES WHO LAUGH BECAUSE FBI, DOJ, POLICE AND GOVERNMENT IGNORE THESE CRIMES, ABUSES AND MURDERS IN PROBATE COURT
WARNING ABOUT CONSERVATORSHIP/GUARDIANSHIP:
What needs to be investigated and exposed.
The small legal groups (gangs) of people involved in these questionable conservatorship/guardianship cases, same judges, lawyers and property companies who elect and assign each other. Often victims have no choice who represents them and can't change that person should they feel violated or unfairly treated. There are Conservator rights and rules but the problem is the judge often ignore or don't respect them. This often is the case with law and constitutional rights.
Lawyers are reported to the Los Angeles and California Bar for fraud, bribery and dishonest behavior but nothing is done. Judges are reported to the California Commission on Judicial Performance is aware but known for ignoring Judicial abuse.
See these articles:
Thousands of U.S. judges who broke laws or oaths remained on the bench
California commission that investigates judicial misconduct coming up short, audit says
Los Angeles Superior court Probate department has often been exposed by media such as the following articles:
Justice Sleeps While Seniors Suffer
Ruling Over Someone Has Paid Off Handsomely
When the Guardian is An Abuser
The Probate Murders Part One
The Probate Murders Part Two
The Probate Murders Part Three
Melodie Scott-The Road Goes on Forever
Another Probate Murder?
Public Guardian to Expand Powers to Seize Assets
Police Hiding and Obscuring Reports Relating to Melodie Scott
Attorney Defies Subpoena in Alleged "Murder for Money" Scheme
JUDGE Brenda Johns Penny 106179
Los Angeles
Admission Date December 1982